Social media is a new and exciting way to promote websites. The whole concept of social media is getting your content or message in front of social groups and having them spread the word about your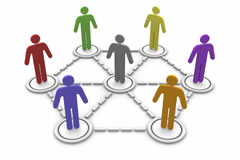 product or service for you. This is not automatic, and may also produce negative results if not promoted properly.
Websites like MySpace, Facebook and Twitter allow you to join online communities and share information and messages amongst each other. Sites like Digg and Delicious allow users to bookmark sites on the web. As more people bookmark the same sites, they get more recognition than competitor's sites. This viral marketing strategy can have a huge impact on your overall traffic and brand creation.
Viral marketing sounds like a bad computer bug, but in this case, the term implies something beneficial and not destructive. We work with our customers when appropriate to create online profiles and develop the kind of content that can be spread through viral marketing efforts. Press releases, articles and calculators are all great examples of content for social media marketing as well as link bait for link building methods. Our SEO copywriting team will develop effective and well-written content for placement in a multitude of social media targets.
Our SEO services will help you rise head and shoulders above the competition.
For a free consultation with no commitment, call us and we'll discuss your search engine marketing and search engine optimization needs. Give us a call at 800.801.4358 or drop us a line at info@realdealtechnologies.com. We're always ready, willing and able to help you reach your website goals.