Link building is an important area of search engine optimization. In the early days of search engine placement ranking methods, you could type the word "test" 400 times on a webpage and rank very well for the keyword test. Thank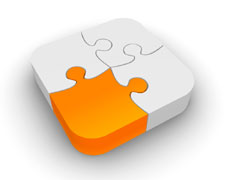 goodness those days are long gone and keyword-stuffing methods are obsolete.
For a search engine optimization campaign to be effective and successful today, someone has to tell the search engines that your website is important, relevant and informative. That someone is the visitor you bring to your website through your optimization efforts, which include links from other websites. If no one links to your website, the search engines don't take notice.
Don't worry - we can help obtain such links for your website. Real Deal Technologies finds links from multiple sources, but use only high quality directories and local geographic sites, if we can get them. We also utilize industry sites relevant to your content, product or service, as well as social media marketing links.
A nice blend of inbound links from multiple, similar content sites as yours is one of the best ways to propel your website ahead of the others in search engine rankings. We'll work with you to achieve this. Our search engine optimization team will work with you and educate you on how to build quality links. Many of our customers continue this method on their own after a few rounds of paid link building to get accustomed to the process, with fantastic results.
We're not your ordinary SEO services company. Let us show you the best methods to increase your page rank. Our goal is to make you succeed. That's our reward, and the foundation of our services.
For a free consultation with no commitment, call us and we'll discuss your search engine marketing and search engine optimization needs. Give us a call at 800.801.4358 or drop us a line at info@realdealtechnologies.com. We're always ready, willing and able to help you reach your website goals.